Rail Transfer Cart is a transportation vehicle that is used to transfer heavy materials on a fixed track inside a factory, mainly to solve the problem of moving materials across workshops or areas and assembly lines inside a factory, also known as electric rail transfer cart, rail flat cart, rail transfer trolley, rail material handling cart. The rail transfer car needs to run on a fixed track, which can be straight, curved or S-shaped.Rail Transfer Cart has a maximum handling capacity of 500 tons. Compared to trackless transfer carts, rail transfer carts are cheaper and more cost effective.

Types of Rail Transfer Carts
Rail Transfer Cart is a rail-type transport vehicle, need to lay the track on the ground, the track is generally I-beam surface contact rail; secondly, it is an electrically driven vehicle, in the motor and reducer drive automatic operation, according to the different ways of power supply rail transfer car, can be divided into battery-powered rail transfer car, cable reel-powered rail transfer cart, slip wire powered rail transfer car, rail transfer cart powered by cable reel, rail transfer car powered by slip wire, dragging cable powered rail transfer car, rail transfer cart powered by low voltage. According to the different handling environment needs, you can choose the applicable power supply method of the rail transfer cart.
Battery Powered Rail Transfer Cart: the cart uses an industrial special lead-acid battery, which can be cyclically charged, environmentally friendly and durable, and can be adjusted to any speed within the set speed; there is no cable line, there is no restriction on the running distance and running route, it can go straight + arc route, and there are no special requirements for the track; the battery capacity can be increased according to the work intensity requirements to extend the working time; it can be used both indoors and outdoors, and it is also suitable for high temperature (-30℃-70℃), flammable and explosive and other special industrial and mining occasions.
Cable Reel Powered Rail Transfer Cart: AC 380V electricity provides power to the motor on the transfer cart, and the motor drags the transfer cart to run. The cable reel powered rail transit car is simple to operate, easy to maintain, has high safety and mobility flexibility, high frequency, low noise, the rail electric flat car is not high requirements for the track, if you need to run Longer distance can be achieved by installing a cable reel, and there is no upper limit of load capacity.
Slip Wire Powered Rail Transfer Cart The safety slip wire slider is driven by the movement of the transit cart to supply power to the transit cart, which requires the opening of a trench on the side of the track and the installation of a safety slip wire in the trench, which is laid on a single surface and fixed to the ground with a hinge. When the electric rail transit car is in operation, the cover is lifted by the trench flap device installed on the transit car, and the flap device contains the cable connected to the safety slip wire collector. The electric flat car is automatically put back to the ground after the cover is passed to ensure the ground is level. Slip wire-powered rail transit car is not limited by the running distance. Suitable for harsh environments and high temperature environments and other occasions, work with high frequency, high safety factor, rate controllability, is a common means of transportation when we carry out cargo handling.
Cable Towing Line Powered Rail Transfer Cart : one end of the cable is connected to the ground power supply, through the cable sheave, traction wire rope into the control box, and then provide power to the motor on the transfer car, to drag the transfer car operation. But the running distance can not be too long, generally can not exceed 100m, the distance is too long easy to wind the cable. Dragging cable line powered rail transit car on the track laying requirements are not high, can also be installed hydraulic lifting system, side flip, lifting table rolling devices, suitable for harsh, high temperature, explosion-proof environment in long-distance transport.
Low-voltage Rail Powered Transfer Cart : The normal voltage is reduced to 36V safety voltage and then connected to the rail to supply the rail transfer car motor through the rail. The safety performance is higher; no other power supply line connection, so it does not hinder cross transport, and can operate 24 hours a day. However, compared with other rail transit car its cost is higher, the track construction requirements are strict, must ensure that the track insulation, and poor rainproof water is not suitable for use in the open air places, it is recommended that the new plant construction when the track is put into laying.
Advantages of Rail Transfer Cars
High Handling Capability: Rail Transfer Cart is perfect for transporting large, heavy, and delicate objects in industrial.
Easy to Operate: Rail Transfer Carts can be controlled automatically or by handle control or remote control, no need for professional staff, easy to learn to operate.
More Safety: Rail transfer car is handled on a customized fixed track route, which does not affect operations outside the handling area, making it safer and more convenient.
Rail Carts with High Stability:Rigid tracks installed on the ground and the smooth running of the trolley itself make the handling of the trolley more stable than other handling methods.
Transfer Rail Carts for Indoor or Outdoor:Rail Transfer Cart can be operated both indoors and outdoors according to the handling requirements, and the handling environment is not restricted.
Automation is Stronger: the fixed route of the rail transfer vehicle prompts the handling vehicle to complete the scheduled handling tasks independently without special human supervision and control.
Carts are Perfect for Narrow Spaces:Rail transfer cars only in the ground fixed track operation, do not need other space outside the track and aerial devices and pendants, narrow space can be completed handling tasks.
Independent and Complementary: Rail Transfer Trolleys possible to attach other devices and functions to the transfer truck platform to undertake handling work alone, or to combine with other handling machinery such as cranes and forklifts for more efficient use.
Core Components of Rail Transfer Cart
Reducer:Hard tooth surface reducer for flat car, High transmiss ion eff iciency,smooth operation.
Motor:The motor could work at low speed, with smooth start,large dr iving torque. The motor is powered by low voltage, whichis long service life and small size.
Cart Structure:We adopt the box beam type structure of the transfer cart. After anneal ing treatment, the cart frame if not easy out shape and with good-looking appearance.
Wheels:Wheels are special wheel for crane and material is ZG55,overall quenching, the wheel tread and inside flange hardness is HB320 -380,the depth is 20 mm. The rotations is flexible after wheels are assembled. Have advantages of high strength, wear resistance, long service life.
Electrical Cabinet:Electrical cabinet is equipped with the power switch, and the complete set of electr ical equipment has power distr ibution protection, short circuit protection, over current protection, loss of pressure protection, zero protection, emergency power protection.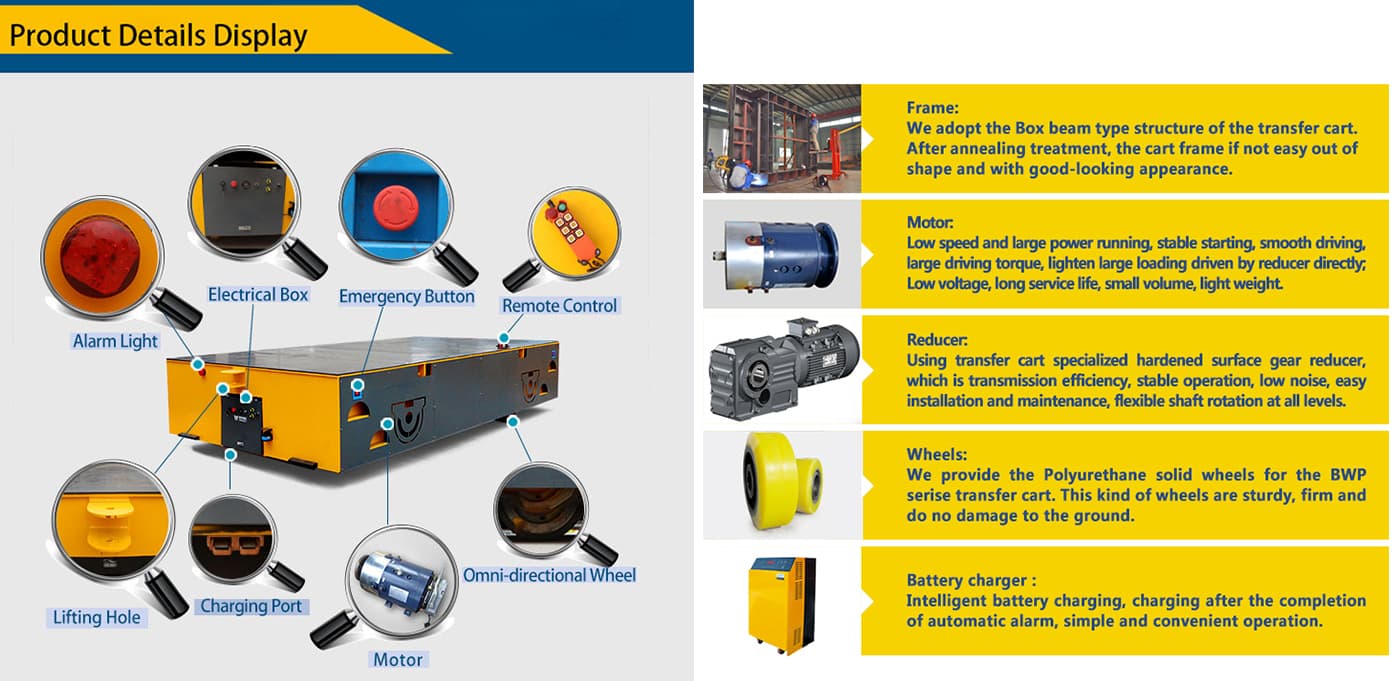 Safety Devices for Rail Transfer Cars
Stopping Device: can effectively protect the personal safety of staff in the transport area.
Ultimate Limit Device: it can effectively prevent the end of the rail transit car from deviating from the track.
Sound and Light Alarm Device: it can remind the personnel of the transport site to pay attention to safety.
Anti-collision Buffer Device:The anti-collision buffer device helps buffering in case of emergency, effectively avoiding damage to the body of the transfer car.
Emergency Stop Button: In case of emergency, the emergency stop button can help the transfer vehicle to stop urgently.
The control box is equipped with emergency stop button, power switch, electrical control system, power distribution protection, short-circuit protection, over-current protection, low-voltage protection, zero-level protection, emergency stop protection and safety labeling, etc.These are equipped to make the operation and control of the transfer truck safer and more reliable.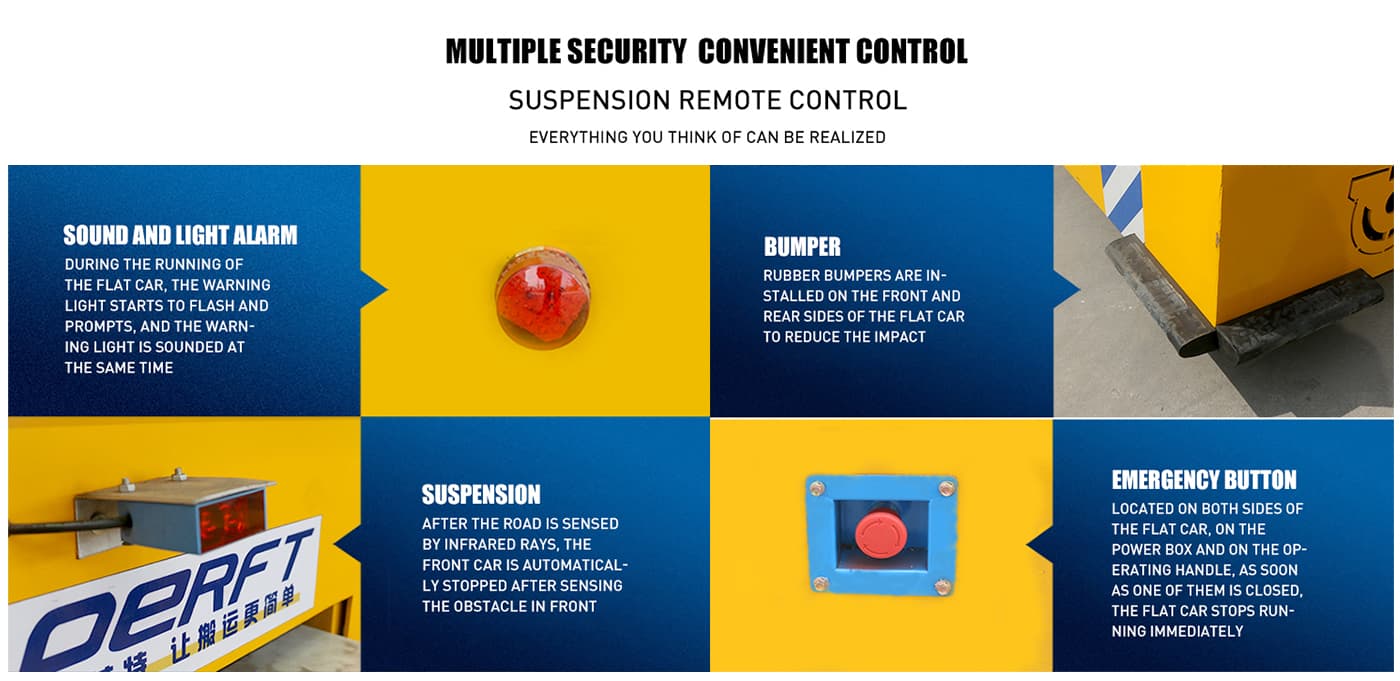 Parameter Sheet of Rail Transfer Cart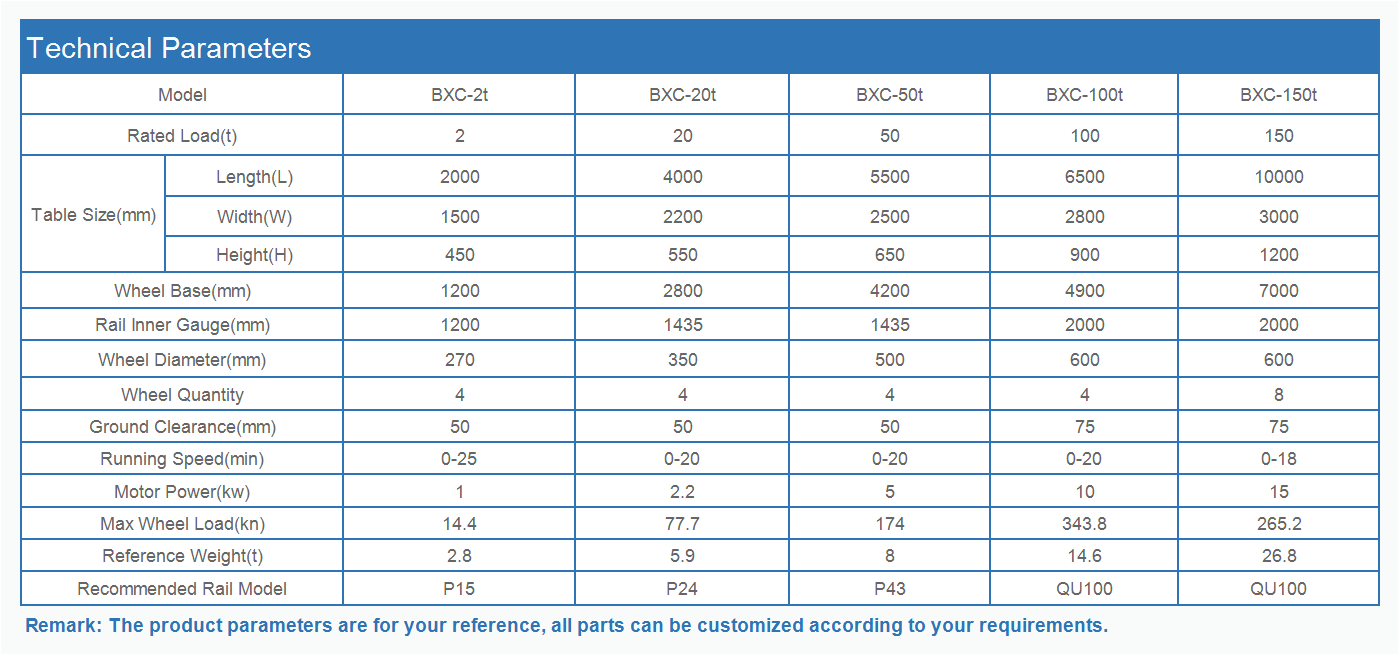 Rail Transfer Carts Can be Customized with the Following Options
Rail transfer car can be customized to meet the customer's handling needs and the actual handling environment.
Customizable Options:
Route of the Rails
Load Capacity
Powered Supply
Platform Dimensions(L*W*H)
Platform Height or Lift Height
Speed of Displacement
Sound & Lights when it is in Movement
We have a lot of extra functions available for your rail transfer cart adapts to your needs.Especially Paint resistant to high temperatures to work in the iron and steel industry.
Production Process of Rail Transfer Cart
Drawing → CNC Cutting → Assembling and Welding → Grinding and Rust Removal → Painting → Assembly → Commissioning and Operation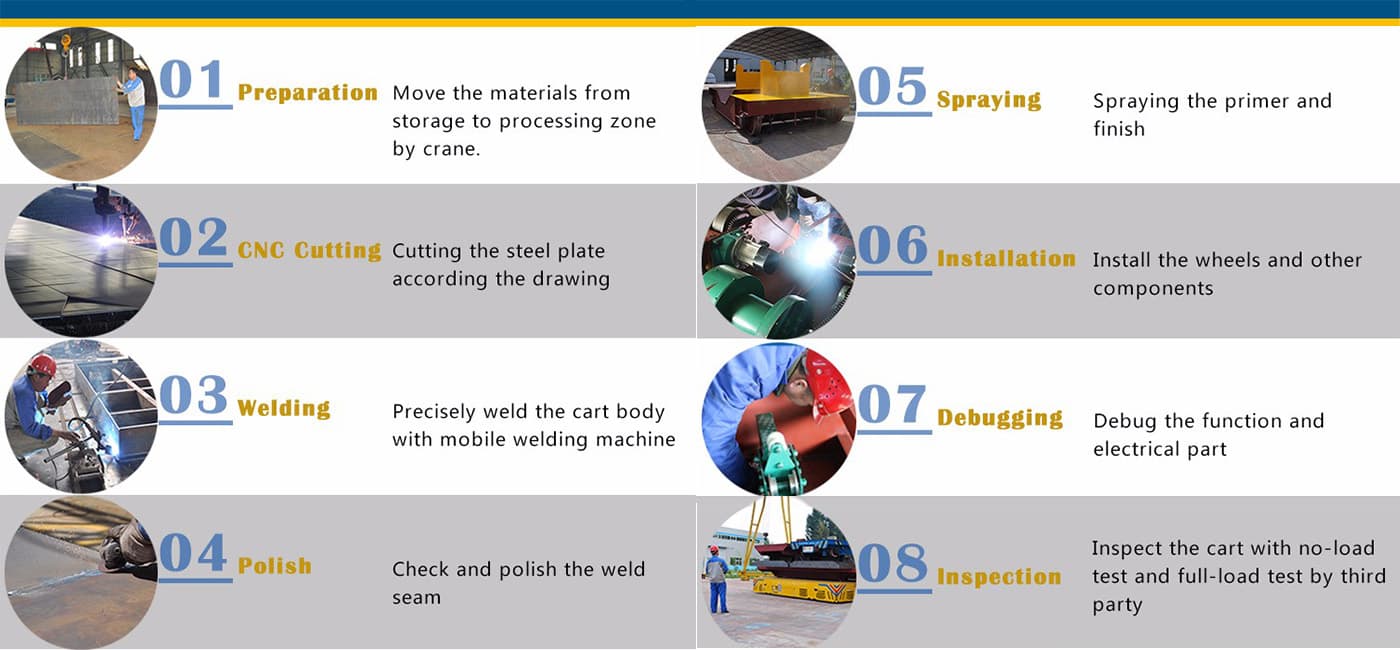 Transportable Objects & Areas of Application of Rail Transfer Cart
Warehouses & workshops (goods, raw materials, semi-finished products, parts, machinery and equipment, transformers, plastic tubes, workpieces in workshops)
Production and processing lines (loop lines, conveyor systems)
Foundry industry (molds, casting parts, injection molds)
Shipbuilding industry (shipyards, repair, assembly, container transport)
Metal industry (steel liquids, billets, steel plates, coils, steel pipes, steel structures, ladles, scrap, molten steel, aluminum products, coil materials, precision piping, paint booth metal parts, boilers, gas tanks)
Construction industry (bridges, simple buildings, precast concrete parts, concrete columns, concrete blocks, marble slabs, tunnel handling, plates)
Oil industry (oil pumps, pumping rods and parts)
Energy (polysilicon, generators, windmills)
Chemical industry (electrolytic cells, stills, polypropylene, polyester bundles)
Mining industry (coal)
Military industry (military equipment)
Railroads (railroad maintenance, railroad welding, train tractors)
Agriculture (grains, crushing chambers, flour mills)
High temperature sites (brickworks, kilns, refractory plants, ceramic plants, roasting plants)
Livestock (farms)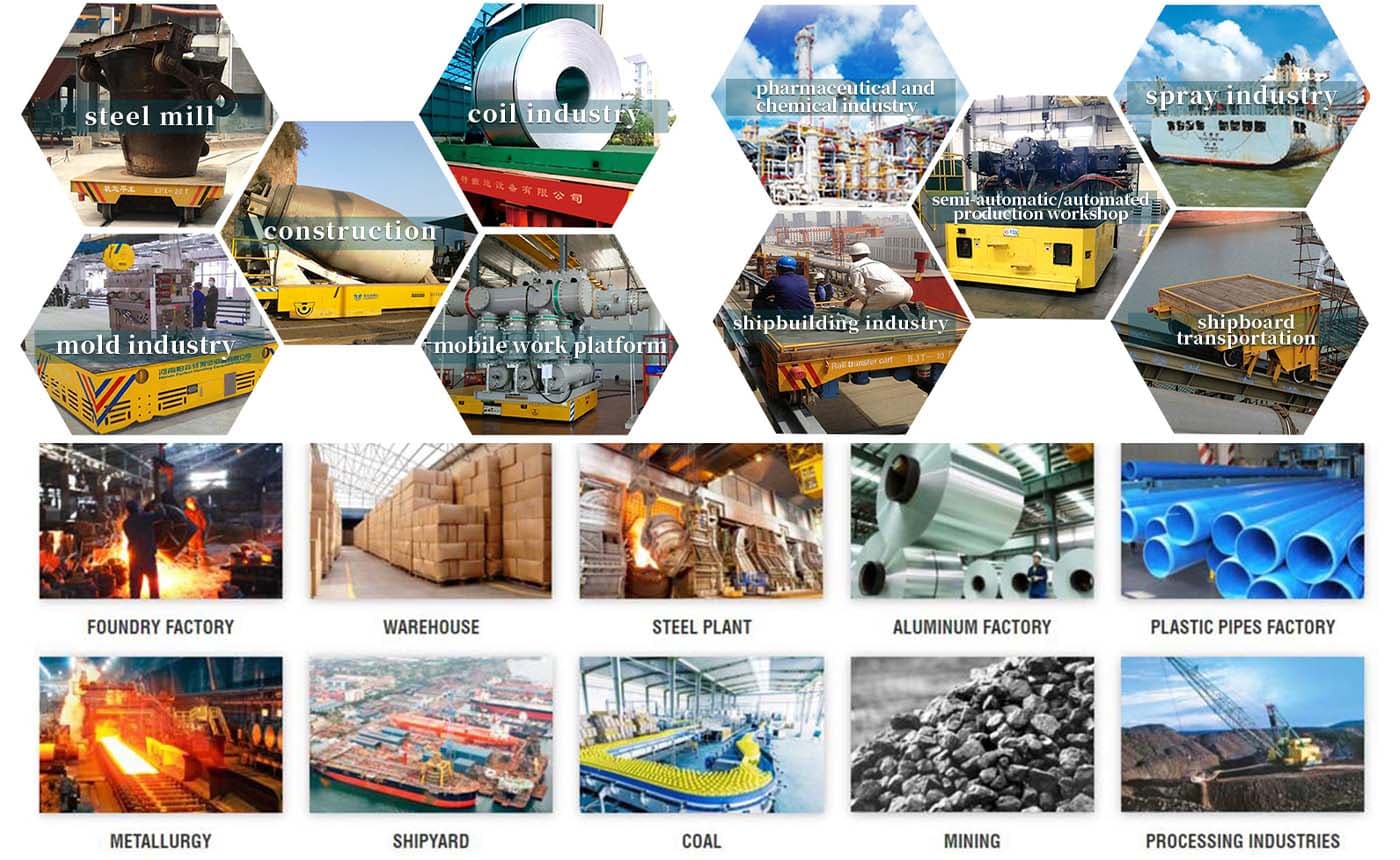 Why Choose Us?
PROFESSIONAL TEAM: There are 5 senior enginers.7 engineers, 12 technicians, 3 professional after-sales pronelsales、customer service and other staff totalling more than 100+ people.
STRICT QUALTY CONTROL:With the strict quality control and humanization management from sheet metal cutting→welding→sanding→painting→component installation→to commissioning, Our company is devoted to changing the world with high quality.
FLEXIBLE AND FAST DELIVERY:We support a variety of price methods, inducing EXW.FOB.CF.etc.No matter how we will do our best to deliver the product to the customer as soon as possible.
SATISFACTORY AFTER-SALES SERVICE: No matter domestic or foreign, and no matter the warranty period, for our customers' problems, we will try our best to solve customer problems.
GOOD VOICE FROM CUSTOMER:Our prsasllis and sncere serice atude impes every overseas customer.
Our Services
Pre-sales:
Pre-sales direct communication at any time and reply to messages within 12 hours.
Personalized service and customized solutions.
Warm reception for customer visits.
Flexible payment methods.
After-sales:
12 months warranty for the whole machine.
24 hours technical support by phone, email or WhatsApp/Skype.
Detailed operation manual and operation video to help you take control quickly.
Engineers can provide repair service for overseas machines.
During the warranty period, you are supported to repair the technology or replace the related parts.
After the warranty period, the price of replacement parts is absolutely discounted.
Packaging and Transportation of Rail Transfer Cart
Rail Transfer Cart body and accessories are packed according to the customer's requirements or our company's standards, and will be transported to the port in rented containers, the whole carts will be packed in tarpaulin and other parts will be packed in glued boxes.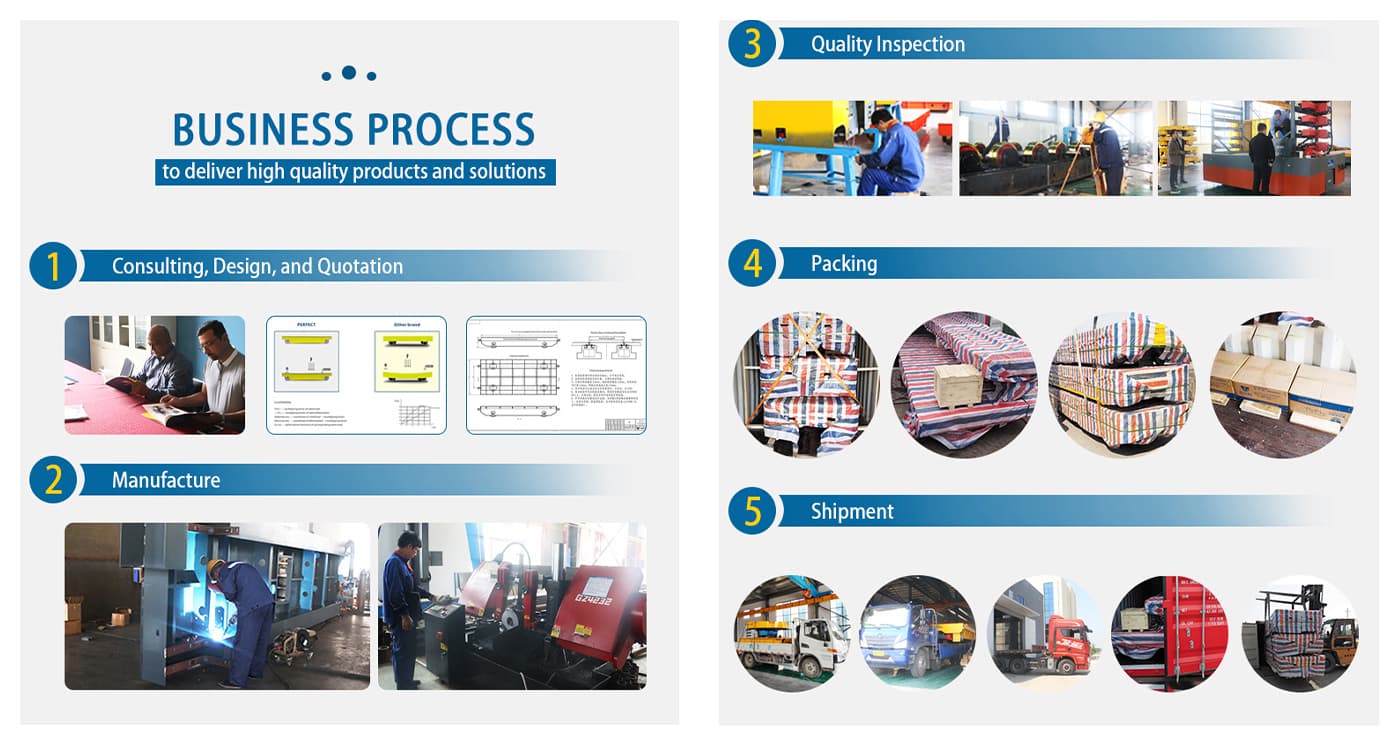 Our Transfer Cart Factory
Perfect Transfer Cart found in 2003,covering an area of 33,300m², with an annual production capacity of more than 1,500 sets of handling equipment, the company can produce 1-1,300 tons of electric leveling equipment. The leading products of our company include: Rail transfer cart, Battery powered transfer cart; Cable drum powered transfer cart; Rail powered transfer car; Busbar powered transfer car; Heavy load transfer cart; Trackless transfer cart; Ladle transfer cart; Rail turntable transfer cart; Hydraulic lifting transfer cart; Manual transfer car. Moreover, we can provide program design, process flow design, standard and non-standard design for clients.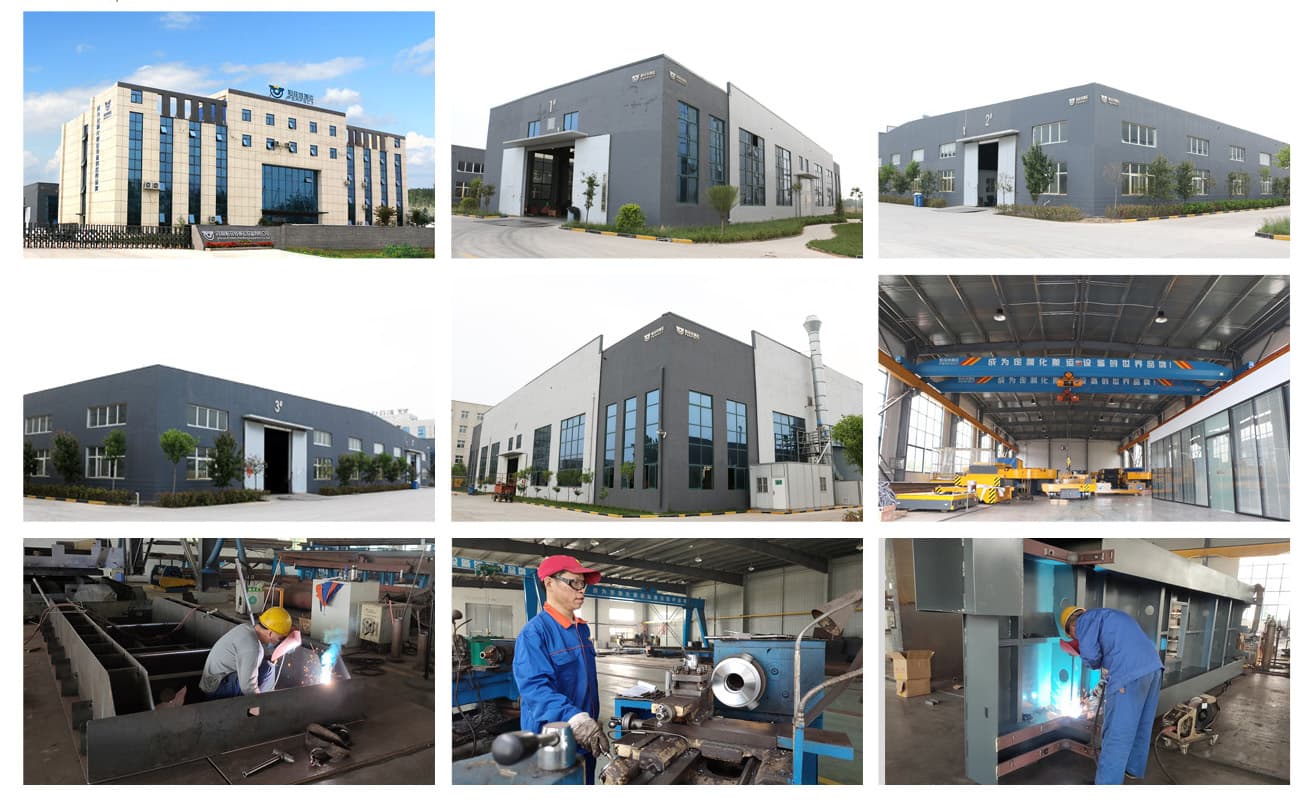 PERFECT Rail Transfer Cart Customer Cases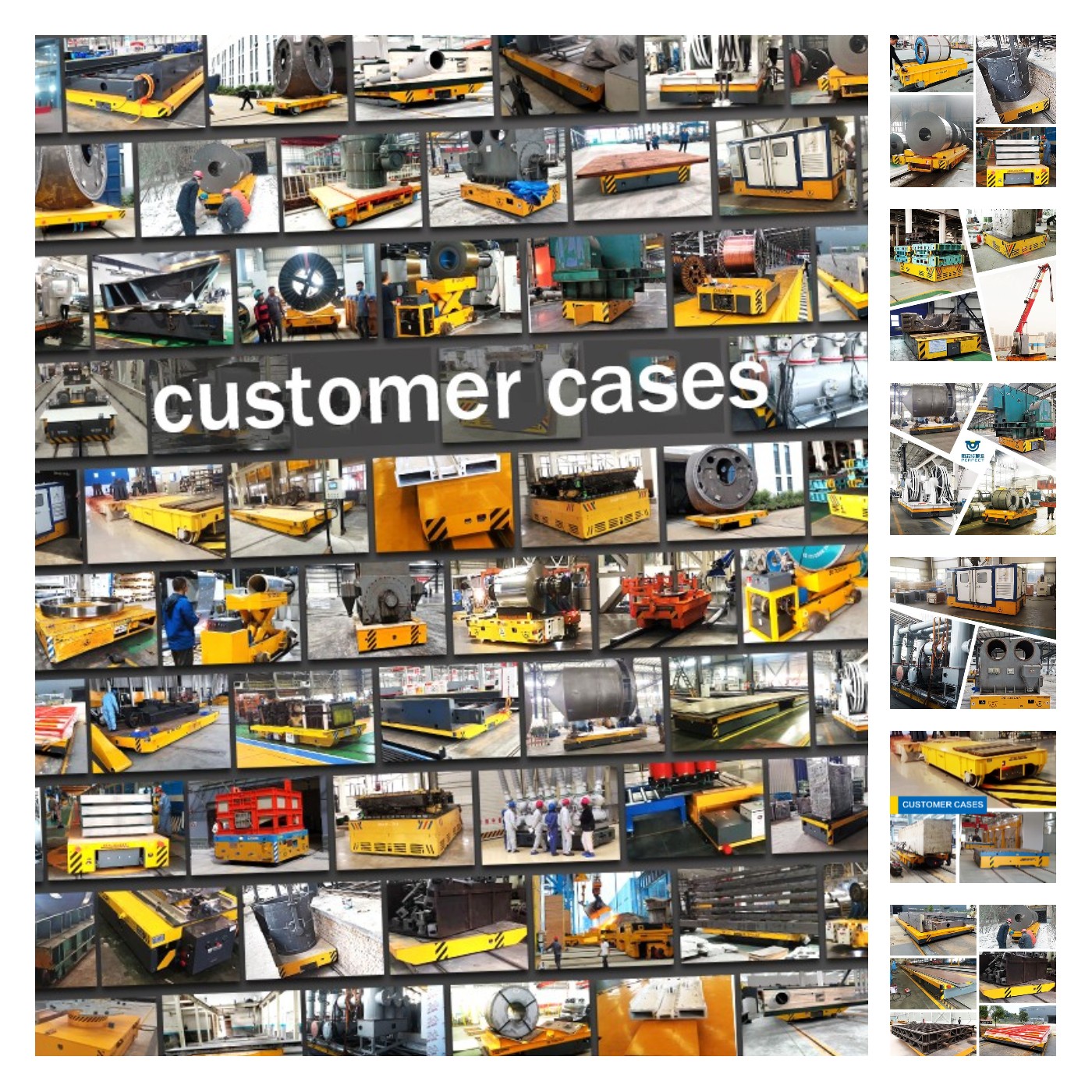 How to Get A Free Quote From Us?
Tell us your basic needs and our professional sales staff will calculate the price according to your needs and provide you with a quotation as soon as possible.
What is the required handling capacity of the rail transfer cart?
What is the size of the railcar table or the size of the material to be handled?
What power supply system is required for the railcar? Rail powered? Battery powered? Cable reel power? Slip wire power? Trailing cable power?
Is there an installed track?
Running time of rail transfer cart handling?
The running speed of the rail transfer cart?
Other functions of the transfer cart?
How will the transfer cart be controlled?
Other customization requirements?